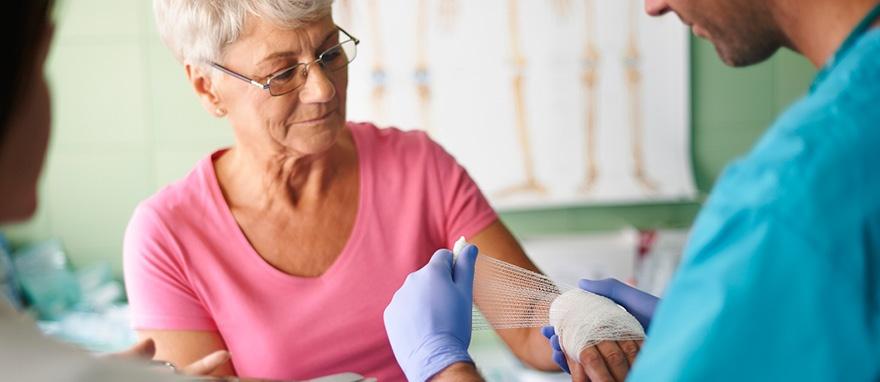 At Baywind Village, we are dedicated to providing quality medical care to patients with complex non-healing wounds. Therefore, in addition to providing a full array of skilled nursing services Baywind Village has created a specialty wound care program. Our comprehensive wound care program utilizes evidence-based protocols and treatment strategies that have been proven to expedite wound healing.
Our Medical Director, Dr. Maria Guidry, is board certified in Family Practice and is a Certified Wound Care Specialist. Her goal is to create a collaborative relationship with the patient's primary doctor, as well as other specialists involved, in order to address multiple medical issues that prevent wound healing. Our caring, compassionate and highly-trained wound care team works collaboratively with the patient's attending physician, nutritionist and therapists in order to eliminate the barriers to healing. In addition, our staff is specially trained to provide Pulsed Lavage treatment, a form of mechanical hydrotherapy that uses pressurized, pulse solution to irrigate and debride wounds.
All staff is trained and educated by our Director of Education, Wound Care Specialist and/or Infection Control Nurse. The training encompasses Universal and Contact Precautions in order to prevent the spread of infection. In order to better care for these complex wound care and isolation needs we have designated a special unit specific to this level of care. We have 15 private rooms available to meet the needs. Our scope of practice includes diagnosis and Treatment of a variety of difficult-to-heal wounds, including:
Complicated surgical site infections & non-healing post-op wounds
Osteomyelitis & Cellulitis
Wound dehiscence (following amputations, abdominal surgery, gyn surgery & other procedures)
Post-traumatic wounds
Venous stasis ulcers
Arterial ulcers
Ischemic ulcers
Pressure ulcers
Diabetic ulcers
Burns
Necrotizing fasciitis
Soft tissue necrosis
Peripheral vascular disease
We are able to provide IV Antibiotics, specialty mattresses, specialty wheelchair cushions and other pressure-relieving interventions. We utilize a wide variety of therapies, including negative-pressure wound therapy, prescription drugs and compression wraps. With guidance from our nutritionist, we provide dietary supplements to support wound healing.